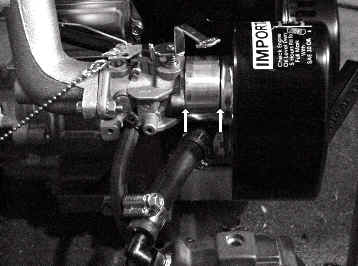 Photo of an Adapter Installed on a Tecumseh HM100 Engine
Type 2 kits are bi-fuel High Pressure Propane and standard Gasoline. The photo above illustrates how most adapters install on an engine. Adapters are just that. They adapt to whatever carburetor an engine has and are installed between the carburetor and air cleaner. Above, you can see the adapter is between the carburetor on the left and the air cleaner assembly on the right.
This is basically how they work:
The Adapter has a hose running to it from the demand type regulator supplied in the kit. The center of the adapter has a venturi.

A venturi has an opening in the middle the shape of which resembles a doughnut. All around the edge of the center opening are many small holes. As air passes through the center opening and over the many small holes, fuel from the regulator is delivered to the air stream. How much fuel depends on how much air is passing over the holes which depends on how far the throttle is open based on the governor.
People often ask about power loss with the adapter style kits. We have never had a complaint about power loss with any of our kits.
After the installation, the engine should be tested right away on gasoline. If a reduction in performance is noticed on gasoline you may choose to remove the adapter when using gasoline. This usually takes only a few minutes though it is often not necessary.
So basically, adapter kits are not a conversion, they are an adaptation.
Price For Most Engine Brands Including Some V-Twins: $227
Note: Engines 12hp and less can use the Type A and C kits.